---
Wide Range Of uPVC Window & Door Options Offered by Prominance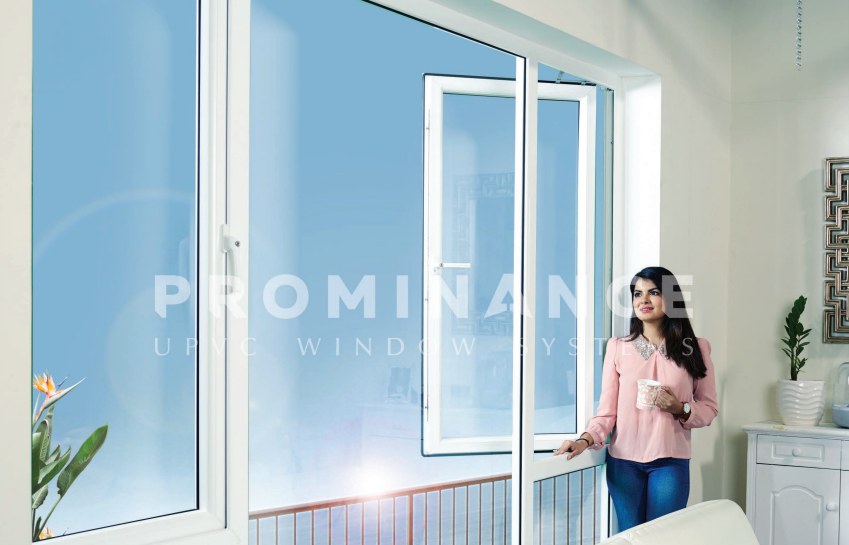 Prominance offers the widest range of uPVC Window & Door Options Worldwide.
It's a no brainer that doors & windows are the soul of a building. Nobody would like to live in a building that has no windows. Even the thought of it is insane & claustrophobic. If knowing that windows are essential for a building then knowing the different kinds of windows & their value is extremely important.
Let's talk about how uPVC Windows & uPVC Doors are classified & how they're used in residential & commercial buildings.
Primarily they are classified into 2 major divisions:
Casement System
Sliding System
Casement System
Casement uPVC windows
Casement uPVC windows are the most popular style of uPVC Windows & Doors. It is an extremely versatile window that will suit most homes, wherever you live. It's a door or a window that is attached to its frame by one or more hinges at the side. They are used singly or in pairs within a common frame, in which case they are hinged on the outside. They're further classified as:
Inward & Outward Open uPVC Windows
These are the most common type of casement windows where the sashes open in the respective direction.
Bay uPVC Windows
Bay uPVC windows are regular inward or outward windows that are projected outside the building using bay posts.
French  uPVC Windows
Being similar to the regular inward or outward window it has a fly mullion that moves along with one of the sashes, making it look like it doesn't have a partition.
Parallel Open uPVC Windows
The parallel opening uPVC windows are a refreshing option for architects and specifiers looking to create an impact and maximize performance. Opening along all four sides, the parallel window offers the best possible ventilation, with increased performance almost double that of a traditional casement window.
The Tilt Turn window is a European-style window with two distinct functions: swing it in like a door or tilt the top of the sash into your room for ventilation. The tilt & turn is a great window for unique situations where you want additional ventilation or access.
This unique system joins multiple door panels with a sliding and folding mechanism  & delivers tremendous flexibility for large scale openings. When closed, Slide & Fold uPVC doors appear to be a wall of beautiful hinged doors. Fold open the doors and the wall virtually disappears leaving an unobstructed opening.
Sliding System
Sliding uPVC Doors
A sliding door is a type of door which opens horizontally by sliding, usually parallel to a wall. Sliding uPVC doors are usually mounted on top of a track below. With frame profiles getting thinner and advanced runners offering a smoother opening, modern sliding doors are fast becoming the top choice to enable a closer connection with your garden or patio. They're further classified as:
Bug mesh uPVC Doors
Windows are an essential part of any house offering an opening to the outside world but along with nature comes insects and other little buddies of nature and Prominance understands this very well. Prominance also makes sliding windows with bug meshes helping you to enjoy nature as it is from the comfort of your couch without worrying about insects and garbage flying into your house.
Monorail uPVC Doors
It's a special type of door or windows where you can have a combination of sliding & casement in a single frame making it a very economical option.
Add-on track
The add on track gives you an additional track, as the name suggests. This additional track could accommodate more panels which in-turn gives you a larger spanned window when compared to the 3 track framed window/door. Thus giving you a wider view of your lawn or the nature that outlooks your room.
Now that we know the types of windows & doors, It's about time that you know where to buy them.
Prominance keeps its promises
To give you a great deal of assurance Prominance has tested its uPVC Windows & Doors for 25000 hours @ 34 GJ/m2 under harsh environmental conditions at the world's topmost Institutions like BSI – UK & SKZ – Germany. This makes us the only manufacturer in the world to have that pride.
You can trust us with a blind fold on ,not just because of the tests we've done but also because of the 1000s of happy customers we've got today.
Recommended Posts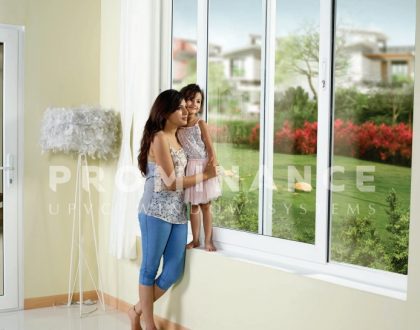 August 4, 2023