---
Discover the perfect blend of style and functionality with Tilt & Turn Windows

Your house is a place of solace after a hard and exhausting day at work. To relieve weariness, all that is required is a tranquil and comfortable environment at home. Your favourite area to unwind may be a fantastic view of the outside world from your windows. As a result, selecting the proper set of windows is critical. Tilt and turn uPVC windows are a popular fenestration design. This type of window has a simple and attractive appearance that complements modern properties. They are the next great thing in addition to the benefits of uPVC windows.
Windows with tilt and turn capabilities provide houses with a useful and contemporary touch. Tilt and turn windows open inside instead of outward like normal windows do for better ventilation, safety, and maintenance. Many people think that the vent location that tilts are really appealing choice.
What exactly are tilt and turn windows?
Households have always preferred tilt-and-turn windows because of their superior weatherproofing and security characteristics. These windows are particularly useful and adaptable since they include a hinge mechanism that allows them to be opened in two directions.
Similar to casement windows, tilt-and-turn windows have two opening options: they can be fully opened (inward) or slanted from the bottom so that the top of the window is inclined inward. No one can squeeze through the gap created by the tilting entrance, adding to its security and safety.
How do tilt-turn windows operate?
The tilt and turn window's handle functions in two distinct ways, but when the window is in place and facing down, it is fixed firmly in place.
Turning the handle 90 degrees causes the window to swing inward, fully opening the aperture; turning the handle 180 degrees causes it to simply tilt open, with the aperture primarily at the top.
So let's look at what are the advantages of tilt and turn windows that make these so popular:
Flexible ventilation & versatile design – Tilt and turn windows are quite flexible when it comes to ventilation, which is one of their main benefits. The window can merely be tilted open to allow for a small amount of airflow inside your house rather than being completely opened. Once you've decided how much ventilation you want, you can change the angle. A further benefit of the design is that due to the tilted angle, water is kept out of your house when it rains.
Simple Operation – These windows provide simplicity and adaptability, as well as the option to tilt inwards or fully open inwards. These are quite simple to use. The flexibility aids in safe ventilation and makes it simple to clean uPVC windows within your house.
High Security – The tilt-and-turn windows' multiple locking mechanisms provide ongoing security without having to worry about a break-in.
Visually Attractive – These window styles can create a stunning, classic appeal for a home or office. Tilt-and-turn windows may be the ideal solution for you because they come in a huge selection of frames, textures, and customizable patterns.
Suitable for Compact Spaces – Because of their adaptability, these tilt-and-turn windows allow you to open a window in a smaller area, like a bathroom, for ventilation without needing a big window to swing back into the space.
Insulation that is air-sealed – Compared to sliding, single-hung, or double-hung window frames, tilt-and-turn windows typically have stronger air sealing. This implies that they are less likely to leak water or draught cold air and that you may keep more of your heating indoors, where it belongs. You should use your heating less if your windows are better insulated, which could reduce your energy costs.
Unhindered View – Since they also offer an unhindered view and abundant natural light in a room, tilt-and-turn windows are especially beneficial for large window spaces.
The adaptable approach to increase the amount of light and air in your house.
It's lovely to have a home with plenty of windows that let in the light, but it may be difficult to keep them clean and bright. The maximum amount of light is allowed into your home using tilt-and-turn windows, which also make cleaning simple and stress-free.
A top-fixed opening or a large side opening for ventilation is provided by the novel tilt-and-turn system. This implies that you can increase airflow in good weather and regulate it in bad.
When choosing a window, Prominance uPVC Tilt and Turn Windows are fantastic option since they are the ideal combination of smart operability and smart aesthetics. These windows can be utilized as a standard window or as a ventilation source. Use the sash as a standard window if you don't wish to use it for ventilation; instead, slant the top of it and swing it inward at an angle. Prominance Glass of choice and a high-grade uPVC frame enable a variety of tilt-turn window profiles.
Let our professionals transform your house into a home. Contact us online, by phone, or via email. Whichever option suits you best, our helpful, knowledgeable team is here to support you every step of the way.
Recommended Posts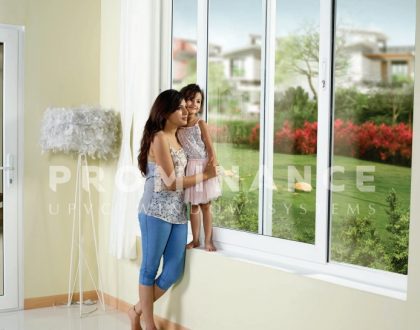 August 4, 2023