---
Choosing the proper windows will help you avoid the monsoon blues!

We sigh with relief from the summer heat as the season changes and when the rains arrive. Our problems with the heat, which is alleviated by the rain. But along with the fresh downpour, showers also bring with them a lot of home-related worries, particularly regarding the fixtures and furniture. The windows in our house are one of the primary areas that experience the greatest damage. Indian terrain's harsh climate frequently causes windows to become termite-infested, distorted, or faded and corroded. As a result, homeowners are forced to perform regular and costly renovations.  
As much as we may love the first drizzle of the season, hot snacks on the front porch with some equally hot chocolate, and the lovely damp smell of the earth, we may shy away from enjoying the season to the fullest out of fear of catching a cold. 
Then what happens if you are not protected even in your "safe abode," which is your house?
Yes, if your home's fenestrations are not weatherproof, the rain will pour in. Repairing or replacing your home's windows and doors every season is not a viable option. It is not only expensive but also time-consuming and tedious. To combat such a circumstance, you must constantly invest in high-quality building fixtures.
Using the correct materials for windows, on the other hand, can help you keep all monsoon blues at bay.  The use of lead-free uPVC profiles in the manufacture of windows is one of the most common options. These profiles are constructed with cutting-edge German technology and offer a slew of advantages to keeping monsoon fears at bay.  
What Leads to Leaks During the Rainy Season?
Through a variety of sources, rainwater can enter your home during the monsoon and even generally. The most frequent causes of leaks in homes are poor-quality building fixtures and improper window and door installation.
If your home's doors and windows are not completely sealed, they will allow rainwater to flow inside your home. Well-built construction fixtures are entirely open and closed without any obstacles.
Water can leak into the interiors of buildings through window frames, gaps at the corners of window frames, joints between the window frame and the wall, and other openings.
What Causes These Defects?
Some of the most frequent causes of the aforementioned failures are loosely installed gaskets, poor sealing and grouting craftsmanship, poor frame and gasket fabrication, inappropriate installation of spare parts, and poor wall opening tolerance.
What Risks Are Associated with Rainwater Seepage?
Any wooden object in your home, including furniture, cabinets, almirahs, chairs, and tables, may deteriorate and decay due to the moisture that comes with the rainy season. Warping occurs as a result of the natural swelling of wood furniture.
The moisture-induced wetness might linger for quite some time. Leaks in a house have several drawbacks, one of which is the smell it produces.
Mould, fungus, dust mites, and mildew thrive in environments with high moisture content. All of these bacteria harm the interior of your home and have a negative impact on your health. Overly humid indoor environments frequently contribute to breathing issues, including asthma and allergies.   
If the window panes in your home are weak, severe wind gusts during rain can be too much to endure, causing them to generate unwanted noise. Additionally, you are aware of how unwelcome such weird noises might be if you live with a pet, a child, or even old people.
Let's take a look at how uPVC windows keep your monsoon joyful: 
No Leakage: uPVC profiles for windows and doors have been designed to remain completely water-tight, guaranteeing that there will be no seepage, safeguarding not only your windows but also the lovely walls. uPVC windows are a more profitable option for windows since they prevent water from seeping in.
Resistance to salty water and corrosion: uPVC profiles have a high water resistance, which means they don't easily corrode, rust, or rot even when exposed directly to rainwater. Such profiles are in high demand, particularly in coastal settings.
Termites no more a headache: Termite infestation is the most complicated problem that homeowners encounter either during or immediately after the monsoon break. In the case of wooden windows, this occurs most frequently. On the plus side, uPVC windows are not at all prone to termite infestation, making them a popular option for windows. 
Keeping out insects: It goes without saying that monsoons bring a slew of insects, particularly mosquitoes. Although insect mesh can be used in any type of window, uPVC profiles are the "easiest to fit and maintain" for bug mesh. There are several personalization choices, and the styles are elegant and neat. 
Robustness and longevity: uPVC doors and windows do not rot, corrode, or warp and are designed to preserve their shape, size, colour, and gloss for many years. In fact, leading manufacturing brands offer a 10-year warranty on windows made with their uPVC profiles.
Noise reduction: Another distinctive quality of uPVC profiles is their great noise reduction. Windows manufactured of uPVC profiles can cut outside noise, thanks to a variety of glazing options. Your home will be quiet and serene because of the reduced outside noise from thunder during the rainy season, and industrial and traffic-related sources.
Weather-Proof: Whether it's heat, rain, or winter winds, uPVC windows and doors are made to withstand extreme weather conditions of any kind, making them a great choice for every season. 
Well-Fabricated: The uPVC windows and doors are expertly constructed with dimensional accuracy, stainless steel locks, and precision to survive heavy rains and even tsunamis. 
High Energy-Efficiency: Installing uPVC windows may assist to make your home more energy efficient. Because uPVC is a superb insulator and a low conductor of heat, it does not enable heat transfer through its frames. When properly fitted, uPVC windows and doors can form an enclosed air system that aids in the maintenance of an optimal internal temperature.
uPVC profiles are an excellent alternative for anyone searching for high-quality, low-maintenance, and economical window solutions because they are made to resist extreme weather conditions. This will help you avoid monsoon problems. Don't bother about anything else; just enjoy the refreshing breeze and the lovely rain! 
Recommended Posts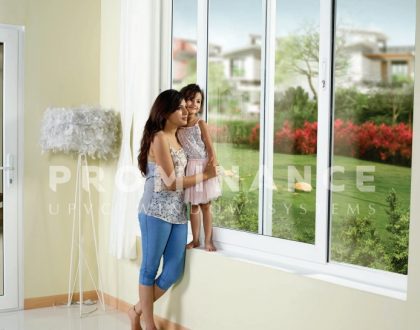 August 4, 2023