---
Common Mistakes To Avoid During Installation Of UPVC Windows & UPVC Doors

It is said that the 80 % problems in uPVC windows and uPVC doors are rooted from bad installations. This final step in the uPVC window & door solutions needs to be seen as a critical step and to be executed holistically with proper attention.
Therefore it is extremely important that the installation team of a uPVC Fabricator or a Real Estate Builder is properly trained and has necessary skills to carry out good window door installations. A method driven proven system needs to be followed without any compromises on all the necessary steps. In order to achieve this, the installers must be fully equipped with the proper installations tools, accessories & technical expertise.
A typical UPVC Window frame will have a 5 mm gap approximately all across the frame in order to allow for its setting in the aperture. Now one may wonder how that helps.
There are two critical setting parameters in the aperture. One the frame must be in water level and Second, it should be in plumb. Both these parameters ensure that either opening or sliding window should function well and smooth.
The effect of these parameters in control may not be visible in the immediate timeline but in long run, these may be the culprits behind the non-smooth movement and in the worst cases the complete failure of uPVC hardware.For example, In Sliding uPVC Doors and uPVC Windows, the sash may become very heavy while pulling or in Casement uPVC Windows & uPVC Doors Systems, the misalignment of shutters might occur a lot earlier than the anticipated time.
Also, It is strictly advised that the frame should have a proper silicon filling from both inside and outside with proper backer rods. This ensures the silicon is rightly adhering to three of its adjacent faces.
Remember it's the main soldier, Which holds the war front against Water, Outdoor Noise and In some portions the dust control as well. If it fails then no matter how good the uPVC Window or Door Profile is, it will fail to protect against Water, Noise, Dust &other environmental factors.
So the above factors must be ensured by the buyer at the end of the installation work so that the Window/Door performance is long lasting and hassle-free.
You can read more about the special highlights of Prominance uPVC Windows & Doors by clicking here.
With this Happy Installing…!!!
Recommended Posts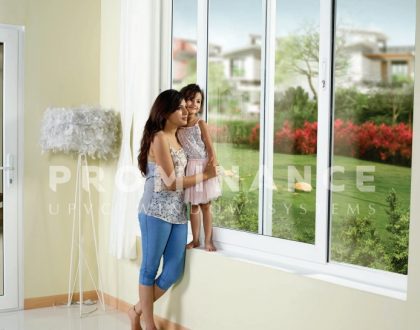 August 4, 2023