---
Why Do Architects Recommend Laminated UPVC Windows & Doors than Traditional Counterparts?

Laminated uPVC has earned great recognition as a material of choice for beautiful and long- lasting windows and doors due to its sustainability and versatility. It is currently one of the most ecological and durable building materials available. The material has several functional and aesthetic advantages over traditional materials such as wood or iron, and it outperforms these materials in terms of quality and performance.
Engineers and Architects prefer laminated uPVC windows because they provide numerous benefits over their older counterparts. Despite being exposed to harsh weather conditions, it is extremely robust, retains its shape and texture, and requires little maintenance. Even after years of use, it does not corrode, deteriorate, or fade.
The Best Quality and Most Energy Efficient Design
Traditional wood frames are vulnerable to insect infestation, warping, and rotting if they are not properly maintained. They may also contract and expand as a result of seasonal weather changes. UPVC windows and doors eliminate the risk of this occurring, and they can also withstand high-speed winds, thunderstorms, and saltwater damage, making them ideal for coastal locations as well.
Furthermore, iron frames are not only more expensive in the long run because they are heavier and more difficult to shape, but they also require extensive care and periodic painting, increasing their overall cost. Laminated windows and doors not only offer outstanding value but also exceptional performance.
New Generation Appeal for Your Buildings
You might want to think about something more than typical white frames for your windows if you want to make a statement. Attractive colored laminated uPVC windows and doors give a home's interiors an attractive makeover at competitive prices. Homeowners are increasingly interested in experimenting with laminated uPVC windows to improve the look and feel of their house. With a wonderful texture and charm, uPVC laminated doors and windows go in well with existing decor.
Key Benefits of Laminated uPVC Windows and Doors
Along with the multiple customization options and diverse selections in terms of aesthetics, laminated uPVC windows and doors also provide practical advantages that contribute to a more luxurious and stress-free living environment.
Achieve classy interior naturally.
You can save on maintenance expenses.
Noise & water-resistant, and termite-proof
Easily customizable.
Luxurious wood finish options.
Royal colors to choose from.
Withstands extreme weather conditions.
Laminated uPVC doors and windows have a lot to offer in this day and age of technological advancement and significant development in the building and architectural sectors. You have the option of a conventional white, blue, or black finish or a more attractive wood finish, and the variety of patterns available is nearly unlimited.
Sturdy and Elegant uPVC Profiles for Spectacular Buildings
You may now pick from a variety of styles for your uPVC windows and doors to fit your specific requirements and interests. The most common method for making colorful uPVC windows is lamination. Lamination of uPVC windows is dependent on the high quality of the branded film. It is entirely weather-resistant, and easily exceeds all customization and color requirements of many happy customers.
To Wrap Up
Prominance offers a wide range of laminated uPVC windows and doors. Modern colors, wood textures, and everything in between add beauty to your home. They're made to resist the rigors of tropical weather. When it comes to enhancing the look of your homes, wooden textures have always been a common pick. Wood finish uPVC laminates are a great option if you are looking to protect and preserve the environment
Recommended Posts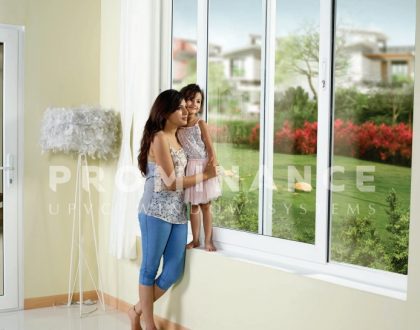 August 4, 2023